Looking for the perfect place to hold your next meeting? Look no further!
Setup Options
Our meeting room provides flexible options for your next meeting or class. Check out our setup and rental options below, then contact us to discuss what you need to make your next meeting perfect.  Tell us what you want to do and we can create the perfect arrangement to meet your needs!
Banquet: This arrangement easily seats between 18-20 people and can be expanded to seat a maximum of 34 guests.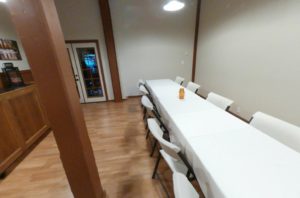 Large Group Meeting: This arrangement is perfect for larger groups or team meetings and seats a maximum of 20 people.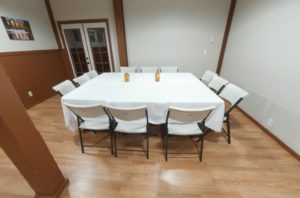 U Shaped: This arrangement seats a maximum of 19 people (seated on the outside) or 26 people (seated on both sides).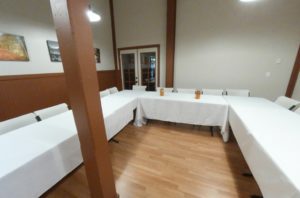 Classroom: This arrangement is great for presentations and classes of all kids. It seats a maximum of 14 people.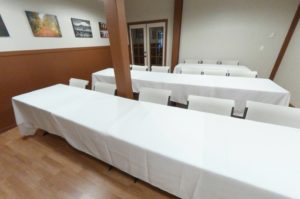 Rental Options
We have a number of assets to make your rental perfect. Please contact us for more information.
Projector: Show  your slide decks and presentations.
Flipcharts: Table-top and instructor flip charts.